North Korea faces environmental crisis with widespread deforestation
---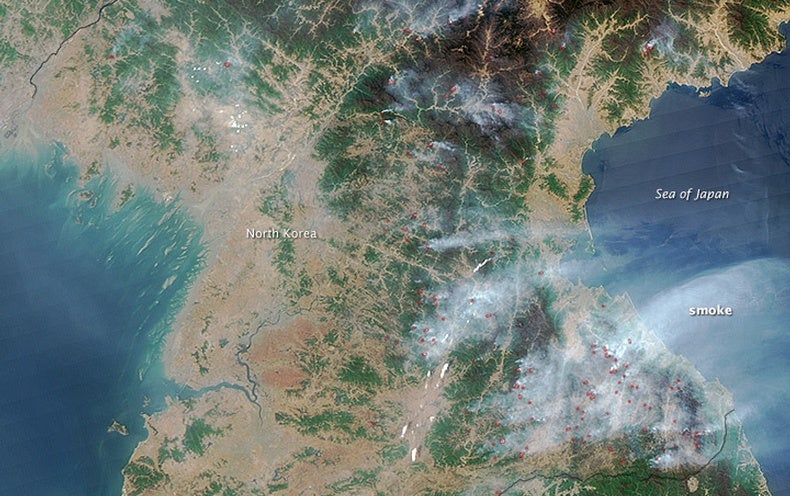 North Korea holds a tree planting day every March. The question is whether this helps green a largely denuded nation whose people face food shortages, deadly natural disasters and extremely cold winters.
The holiday began in 1946 when North Korea was under direct Soviet rule. Today, state-sanctioned media still pay homage to his claims to dizzying success, sometimes with the participation of the "respected Supreme Leader".
Even as new trees take root, subsistence logging and deforestation have an untold impact on the quality of the country's soil and its ability to feed its people.
"People felled trees on a large scale, both for fuel but also to make room for agriculture," said Benjamin Katzeff Silberstein, a doctorate. candidate from the University of Pennsylvania studying social control and surveillance in North Seoul, South Korea.
"You can see it when you stand at the border with North Korea, whether it's South Korea or China," he continued. "The side you are on is just very lush. There are a lot of trees. But on the North Korean side, the hills are almost entirely bare.
The tree problem in North Korea is one aspect of a larger environmental crisis. The Hermit State, known for its strident threats of nuclear war, suffers from crippling drought and severe flooding. Some experts suggest that these conditions, exacerbated by climate change, are pushing North Korean leader Kim Jong Un to the negotiating table to pressure President Trump to ease economic sanctions (Climate wire, April 11).
The government of North Korea recognizes that forest cover declined sharply during a famine in the 1990s, from 8.3 million hectares to 7.6 million hectares in just a few years. And a 2014 study by researchers at the University of Wisconsin, Milwaukee and the Gyeonggi Research Institute drew on satellite data collected by South Korea's Department of the Environment to show that northern forests are increasingly fragmented, with less contiguous tree cover.
This is bad for the wildlife of North Korea, and it leads to a depletion of the topsoil which is unable to do the job of feeding the North Korean people.
The lack of plant cover means there are no roots to anchor the soil in place and prevent it from flowing into rivers and streams during extreme weather events. And while North Korea is tasked with growing its food rather than selling it, its geography makes it complicated. The Food and Agriculture Organization of the United Nations says only 17% of its land is suitable for agriculture.
"The country is mountainous with steep slopes, which in many places are deforested," Bir Mandal, FAO deputy representative in North Korea, wrote in an email to E&E News. "So when a natural disaster does occur, it has the potential to cause a lot more [disproportional] shame."
The past decade has brought a succession of floods, droughts, storms and other extreme weather events to North Korea, damaging crops and killing livestock. This has resulted in landslides and land degradation, Mandal said. And also hunger. North Korea's food supply fell 9% last year, according to estimates from the FAO and the World Food Program.
Subsistence logging was once a problem for the forests of the Korean Peninsula, and the Korean War of the early 1950s further damaged trees in both countries.
"It was a barren landscape," recalls retired CIA officer William Brown, who spent time in South Korea in the 1950s and 1960s.
"Very strange experience"
Forests in the South rebounded in the decades following the war thanks to aggressive reforestation policies and crackdowns on illegal logging. The country now has more forest cover than it did in the 1920s.
The North Koreans, meanwhile, continued to use the forests for fuel and cultivate fields during a succession of famines. Among these was the "hard march" of the 1990s, when the state's food distribution system collapsed. Some people have resorted to consuming bark.
The effect of the famine on the North Korean landscape appears to have been uneven. Woonsup Choi, a researcher at UW Milwaukee, co-authored a 2017 study using satellite data showing that the "hard walk" had a small net effect on overall forest cover in North Korea, although it caused a substantial change in the soil. blanket. During the 1990s and early 2000s, he said, some areas appeared to have lost their forests, while others became overgrown, possibly due to mass deaths and l abandonment of formerly cultivated land.
Woonsup said any effort to interpret the results of the terrain changes would be speculative.
"I think this is a limitation of this dataset," he told E&E News. "Obviously, it's almost impossible to go and see what's going on. "
North Korea has at times allowed foreign researchers to see conditions inside the country, especially if that means gaining foreign expertise on an issue of concern to the regime.
Deforestation and soil health are priorities for the regime. Kim is said to have executed a deputy minister of construction and building materials after opposing his crackdown on deforestation.
In 2013, Norman Neureiter, then director of the Center for Science, Technology and Security Policy at the American Association for the Advancement of Science, obtained permission to bring a small delegation of scientists to Pyongyang for a two-year conference. days on deforestation and soil health. It was followed by site visits outside the capital. He was allowed to bring 15 experts, and no more than five could be Americans.
"It was very nice," said Neureiter, who is now a senior advisor at the AAAS Center for Science Diplomacy. He remembered the place – a beautiful building in the heart of Pyongyang with a large sign outside announcing it was happening – and 70 or 80 of North Korea's top scientists were in attendance. "It was really a well done event."
But Margaret Palmer, director of the National Socio-Environmental Synthesis Center at the University of Maryland, called the experience "very strange."
"What we needed when we went there, and what we assumed we would be able to do, was talk to them in an informal and candid manner," said Palmer. "Tell us about your problems, tell us what kinds of things you can do and we can give you some advice. "
Instead, they were treated to a "show" of introductions, she said, often beginning with praise for the Supreme Leader's environmental vision. The level of science was low, Palmer said.
"Most of the time, they just talked about planting trees," she said.
Hand tools, not tractors
Visiting scientists were kept separate from North Korean attendees at every coffee break, and when Palmer, a river specialist consulting on soil issues, tried to offer the meeting organizer a USB drive loaded with scientific literature , she was swept away by security.
After the conference, the delegation took a bus outside Pyongyang to visit the country's central nursery, where special seed stocks have been developed, and a wildlife sanctuary.
The nursery was the source of the seedlings for the national tree planting program, and Neureiter said their hosts showed them what was billed as advanced materials that would allow small trees to travel long distances without drying out.
"You come away feeling like this is a really good program," he said. "You have no idea, however, how big it is, how many trees they actually plant per year, etc. "
Palmer said the lack of equipment and the fact that the seedlings appeared to be grown by hand with primitive tools made her doubt the trees would be produced in the number suggested by their hosts.
Walks outside Pyongyang turned out to be more informative, she said. With the exception of a few vintage tractors from the mid-20th century, most of the work on North Korean farms appeared to be done manually.
"People were in the fields. Many of them were women, but there were also men – planting seeds and pulling plows, "Palmer said. "There would be a woman in the front with a harness and a woman in the back."
The workers were thin and many had brush, branches or leaves on their backs. She realized that the propaganda had convinced them that an American airstrike was imminent and that they were trying to camouflage themselves.
Palmer declined an invitation to return to North Korea. But Neureiter made the trip five times between 2006 and 2017, even planting a tree on one visit and returning to see it on another trip.
He criticized Trump's 2017 travel ban, enacted after the death of US student Otto Warmbier from injuries sustained in a North Korean prison. Neureiter argued that scientific exchanges have an important geopolitical purpose.
"We would be willing to do any acceptable joint project, because we believe that cooperation lays the foundation for peace," he said.
Neureiter participated in two years of seismic testing on Mount Paektu, a volcano near North Korea's border with China that had shown signs of activity in the early 2000s. China and North Korea were all two involved, he said, but did not share information until international researchers were involved.
"There was a little plan to continue with education," he said. "And the Chinese are also communicating with the North Koreans for the first time. But everything is stopped for the moment. We're just waiting to see if there's some kind of [nuclear] okay, then we can continue.
Reprinted from Climatewire with permission from E&E News. E&E provides daily coverage of energy and environmental news essential to www.eenews.net.