UMass Amherst One of the country's "coolest schools" on environmental issues, according to the Sierra Club
---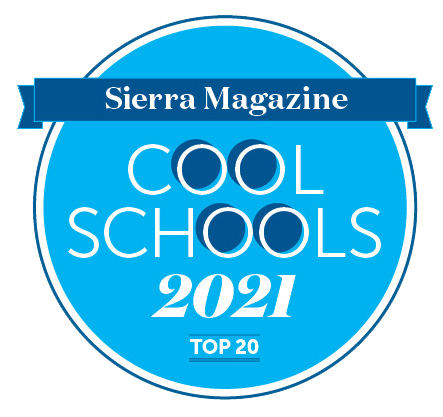 [ad_1]
Sierra Club's national magazine, "Sierra Magazine," recently announced the University of Massachusetts Amherst as one of the top 20 environmentally friendly higher education institutions in North America.
UMass, ranked 18 out of 328, is among those who "have demonstrated a deep and comprehensive commitment to tackle climate change, protect the natural world and encourage environmental responsibility both through their operations on the campus and course programs, "according to" Sierra Magazine. "
Schools have been ranked by independent researchers on a multitude of criteria, including study programs focused on the environment, renewable energy and waste management operations, student engagement in environmental activism, and planning and administrative standards for each school.
Some of the recent efforts that have caught the attention of "Sierra Magazine" include the fact that UMass is home to the state's first electric vehicle (EV) fast-charging station; that it has three operational solar awnings and five large roof systems, with two more awnings on the way. When completed, these panels will provide 10 megawatt hours (MWh) of electricity, which could power 1,420 homes for a year. The campus is also home to a working group of students, faculty and staff who are developing a carbon mitigation plan to move UMass towards the goal of zero carbon emissions.
Yet building greener campus infrastructure is not enough. "We have found that the most effective way for UMass to deal with the various environmental crises of our time is to link the operational and the academic, and present practical opportunities for learning and action," says Ezra. Small, UMass Campus Sustainability Manager. . "More than recycling or turning off the lights, we ask: How can sustainability advance the mission of UMass, from efforts to foster diversity and inclusion to resource use and justice food? "
"Many transformative green projects at UMass were originally designed by a student," says Darci Maresca, deputy director of the School of Earth and Sustainability. Take, for example, the UMass Carbon Literacy (CLP) project, which trains students to become ambassadors to their peers for the cause of raising awareness about the costs and impacts of carbon emissions. CLP is a global program and UMass Amherst is the first US organizational partner to implement it internally. Angie Gregory, then a graduate student in sustainability science, spearheaded efforts to bring CLP to UMass and implement it.
Then there is ELEVATE, a new doctorate. National Science Foundation-backed scholarship program to train the next generation of leaders to address planning, climate change, equity and technical issues in the transition to renewable energy sources.
"The pandemic, social unrest, climate change: it looks like a global turning point," says Maresca. "And now UMass is collaborating in all fields, academic and institutional, like never before. We meet the demands of the moment and our students receive the training that prepares them for the world that awaits them.
[ad_2]
Source link